Having 'done' much of Europe including some of it's least visited areas, tasted the US and experienced Hong Kong and China, choices of reasonably priced but exotic destinations were diminishing. My wife Joan and I wanted a complete change of culture, somewhere exotic and maybe just a little challenging, definitely not just sun, sea and sand.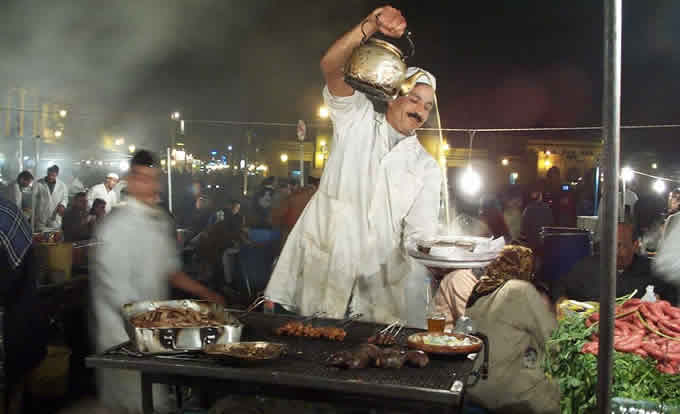 We had never visited an Arab country before and the thought of exciting Souks in a walled Medina, the Kasbah, carpets, spices and Camels, this had to be our next holiday. Morocco beckoned, to be precise our destination was to be Marrakech. Flight time from Gatwick was just over three hours, and with a ten-minute transfer to our hotel everything was very relaxed. The hotel (El Andalous) is situated two kilometres from the old city centre, half an hours stroll or a cheep taxi ride.
Two types of taxi operate in Marrakech, the' taxi petit' or the 'taxi grand'. The petit is all you would normally need within and around the old or new city, being the smallest they are also the cheapest, ten-twenty Dirhams (60p-£1-20p) will take you to most places during the day, prices rise during the evening slightly. A 'taxi grand' will cost a little more, and being mostly Mercedes have extra room for larger parties, they are also uniquely allowed to travel outside the city boundaries and so are available for longer sightseeing journeys. Always agree a taxi fare before you start your journey.
As usual we were keen to leave the confines of our hotel and eager to explore. We headed on foot towards the highest landmark in all of Marrakech, the imposing tower of the Koutoubia mosque (C1184-1189) still resplendent in it's rather refined Moorish style. This led us to the old walled city (Medina) and into a world unlike any we had previously experienced, only a visit to Goa a few years ago came close. Standing in 'Place Djemaa el–Fna', referred to in general as 'la place' in French or 'the square' in English, we were presented with a 360 degree panoramic spectacle such as one might find in an Arabian storybook.
With the large Koutoubia mosque behind us we surveyed a frenetic scene of minor commerce. Wizened old men wearily pulling handcarts laden with all manner of merchandise, colourfull carpets piled high, new made chairs and mysterious boxes. Other goods, building rubble and the detritus of everyday living were being conveyed in carts pulled by sad looking donkeys, their drivers giving them an occasional prod with a stick to remind them of whose boss. Green horse drawn carriages conveying newly arrived tourists added some serenity to an otherwise frenetic scene. Entertainers were in the Square en-mass, all trying to extract some loose change from our pockets, usually in exchange for a 'photo opportunity'.
Kaftaned-attired dancers with their shell lined, tassel swirling hats and bells were complimented by an assortment of other ethnic musicians. Burka wearing women were doing good business decorating arms, hands and faces with traditional henna designs, others were squatted beneath parasols in readiness to tell ones fortune. Storytellers and elder educators attracted large crowds of locals, as did the 'medicine men' with their stalls laid out complete with jars of mysterious remedies and skins of long deceased animals.
There were no western hippie groups muscling in on the entertainment act, as is the case in most European countries, the entertainment was purely indigenous, and very colourful. The brightly dressed 'water carriers', with their Day-Glo 'lampshade' hats, shiny brass drinking cups and bells would have been prime contenders for a leading role in any British pantomime. I found the snake charmers less than charming, but there were still many who could not resist having the 'snake around the neck' photo to take back home. I do have to admit though, that the wailing of the snake men's trumpets and the beat of the drums certainly added to the atmosphere.
Again, we were not enamoured at all by the men with their captive monkeys forced to endure an alien environment in the pursuit of tourist cash. Towards the periphery of the square were stalls selling spices and local fruit, I have never seen so many dates, and strung-up figs piled high tempting passers by. Enclosing all this are numerous cafes and restaurants encouraging the visitor to relax and do some people watching.
The best advantage points for an over-view of the Square is from one of the terraced roof top restaurants with a glass of fresh squeezed orange juice or a glass of the local sweet mint tea, or maybe a coffee with a plate of petit pours. Any time of day is good for this relaxing and entertaining experience but late afternoon in March with the sun low in the sky is particularly evocative of the Eastern spirit.
This is when the square prepares it's-self for the nightly feasting of it's inhabitants. Food stalls illuminated by gas lamp and light bulbs push the daytime entertainers to the margins as cooking stoves and copper tea urns smoke, steam and hiss into the ever-glowing skyline. Customers seated around the bustling stalls can indulge in various delights such as boiled sheep's head, snails served hot in china dishes seeped in snail liqueur or hard boiled eggs stuffed into a large bread roll.
The 'Place Djemaa el-Fna' was just the start of this Moroccan adventure, just a fraction of the old city). There were still fine monuments to discover such as the utterly unmissible Bahia Palace decorated in rich arabesque splendour with its painted ceilings and stucco carvings. The Ben Youssef Medrassa is another must-see masterpiece for those interested in historic architecture. It was founded in the fifteenth century as a university for the study of the Koran. Once it housed nine hundred students, or so we were informed by a weasely old man dressed all in white, who immediately latched on to as a (unofficial) guide and who became more irritating by the minuet, hoping for a tip.
It is common to be pestered by locals offering to take you some where, usually places you don't want to go like their brothers carpet shop or the tannery where they will receive a small payment from the proprietors. On the other hand you may well be lost as we were at one time. We were pleased to pay the young boy who offered to guide us back to the main square, for his trouble. I imagine he regularly tops up his pocket money this way! The Medina is a large and confusing place and unless you have plenty of time to explore at your own pace it would be worth hiring an official guide for a day (about £30). A guide will also help you deal with the thousands of shopkeepers in the souks and the Kasbah.
The Souk and Kasbah are the two main areas of commerce, made up of alleyways, winding streets and small shops fronting the thoroughfares, and the proprietor of each will insistently ask you to look at his goods as you are passing in the hope of a sale. You learn quickly to politely ignore them, unless of course the amazing array goods on offer tempt you. If you are tempted, bargaining is the order of the day or you will pay severely over the odds! If something is offered for 500 Dirhams, the vendor will probably, after a bit of haggling accept 50! Good buys are clothes, carpets, inlayed wooden items, leather goods and metal work. Lanterns hang everywhere and like much of what is seen for sale will have been made just a few streets away.
If you have the time, seek out some of these artisans. I wanted to find some traditional woodturners using medieval type bow lathes and was successful. Marrakech is a microcosm of pre industrial revolution technology, it's all there; metal bashing, tanning, ceramics, textiles and all the wood-working trades.
Marrakech can be very tiring on the feet, but in my view is best seen on foot, but hiring a horse drawn carriage will introduce you to many of the sites and experiences at a more leisurely pace. Depending on your bartering skills this will cost between £5-£10 per hour. We took to a carriage to visit the Majorelle gardens, a welcome oasis of peace and bird song just outside the city wall. This was the perfect antidote to shopping in the Souk and dodging the ubiquitous mopeds that form the main means of personal transport, and seemed some times to come from nowhere.
If you tire of the old Medina there is always the new city to explore with its upmarket shops and restaurants, but we decided it was not for us. As a break and an opportunity to see some more of morocco we booked a long excursion through the High Atlas Mountains to the old city of Ouarzazate. This proved to be a good choice. We boarded our minibus at 7am and travelled from the plains of Marrakech to the lush valleys of the Berbers, whose pink hued mud brick homes clung precariously to the steep hillsides. Access to these was often only by way of a rickety rope bridge across a ravine. There were opportunities for those who collect stones and fossils to make some worth while purchases as momentos of the region. After a couple of hours we reached the snow-line becoming unexpectedly stuck behind other vehicles that were having difficulty driving on the ice. This added to the excitement of being more than 3000 metres above sea level. The views were stunning, especially looking back to the winding hairpin roads we had just travelled on.
Once over the summit the landscape slowly changed though snowy white to green, and then to a more desolate but warm rust-red semi moon like landscape so beloved of epic filmmakers. Indeed, Lawrence of Arabia and Gladiator were both filmed here. After stopping to admire a hilltop Kasbah and visiting a 'typical' Berber home we reached the small town of Ouarzazate. After lunch it was time to retrace our steps for the long journey back to Marrakech.
Our visit to North Africa was full of the sights, sounds, and aromas, characters and colour that I was promised by all the guidebooks with one exception. Even the tour operator dose not recommend Morocco to vegetarians. We are both vegetarians and experienced no problems at all, either at our hotel of eating out, so go and enjoy!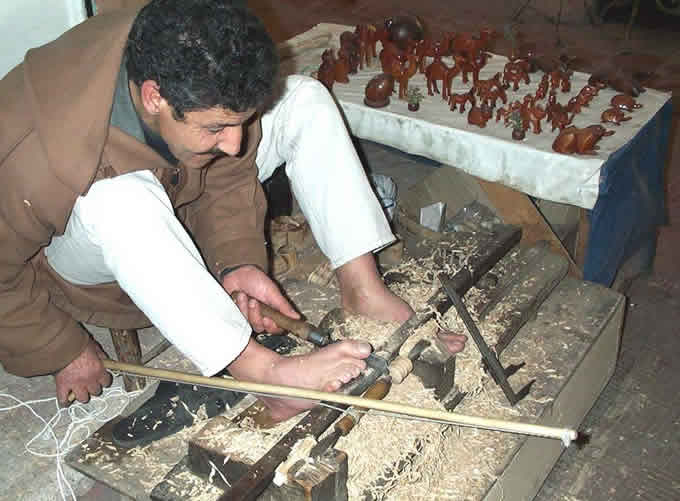 The use of bow lathes has a long tradition. The first recorded example is an illustration on an Egyptian tomb circa 350 BC. Its actual usage almost certainly goes back much further than that. In Marakesh these lathes are used to produce small items such as chess pieces.