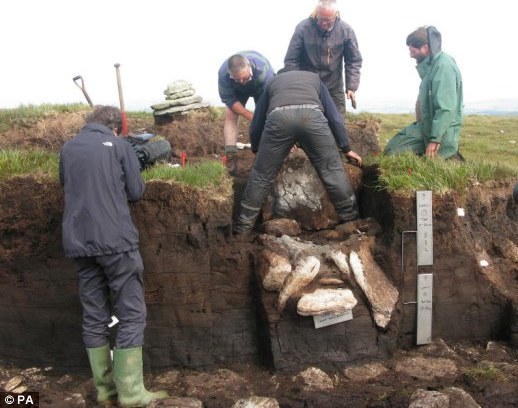 In August 2011, an early Bronze Age 4,000 years old cist—a small burial chamber made of thin stone slabs—was discovered on Dartmoor.
Inside were the cremated remains of a female, and, almost uniquely for this period were well preserved grave goods including 4 lathe turned ear studs (labrets).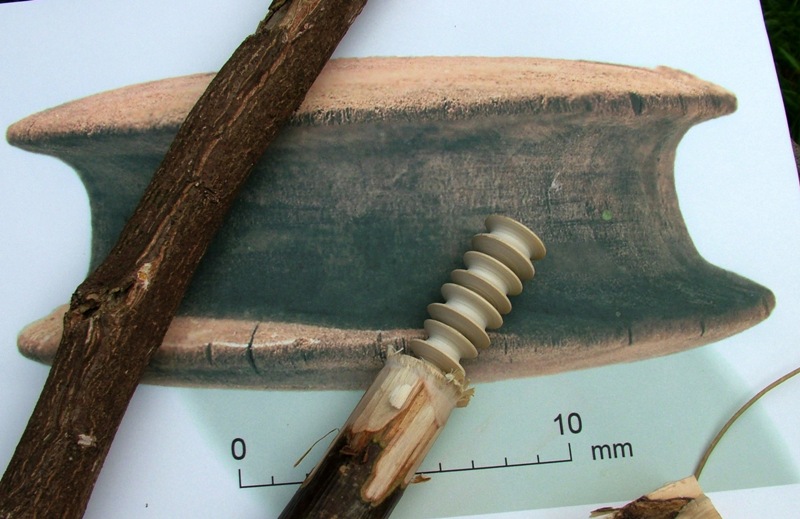 Analysis has established that these studs are turned from spindle wood, a small shrubby tree that still grows on the Moor.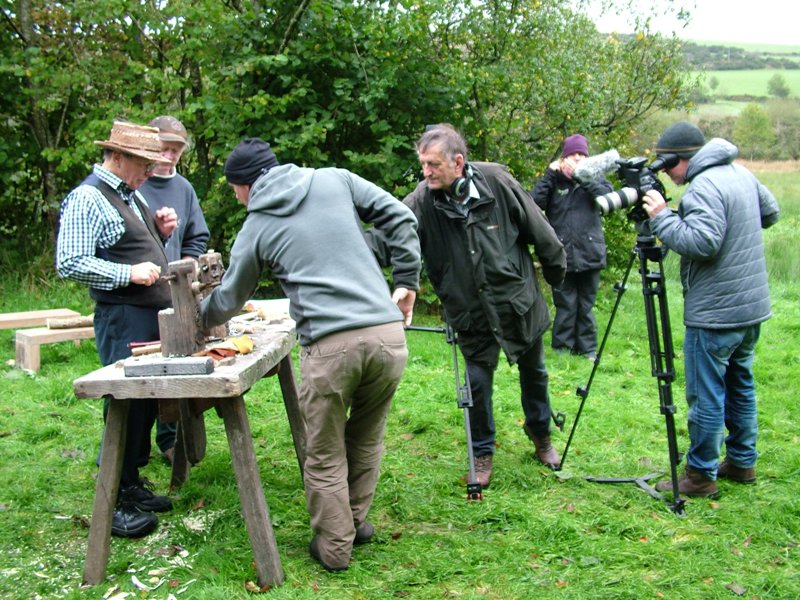 Studying high resolution images confirmed to me that these artefacts were turned rather than carved
The question that was put to me by Andrew Brown of de facto Films who was producing a BBC documentary. was how were these exquisite items turned on a lathe, and what sort of lathe? These objects are no more than 2½ cm diameter so I ruled out the use of a traditional pole lathe, much too heavy for such delicate woodturning. As the invention of the crankshaft was at least another 1500 years away, possibly more, the only options were some form of reciprocating apparatus, and this left me with the bow lathe or 'strap' lathe.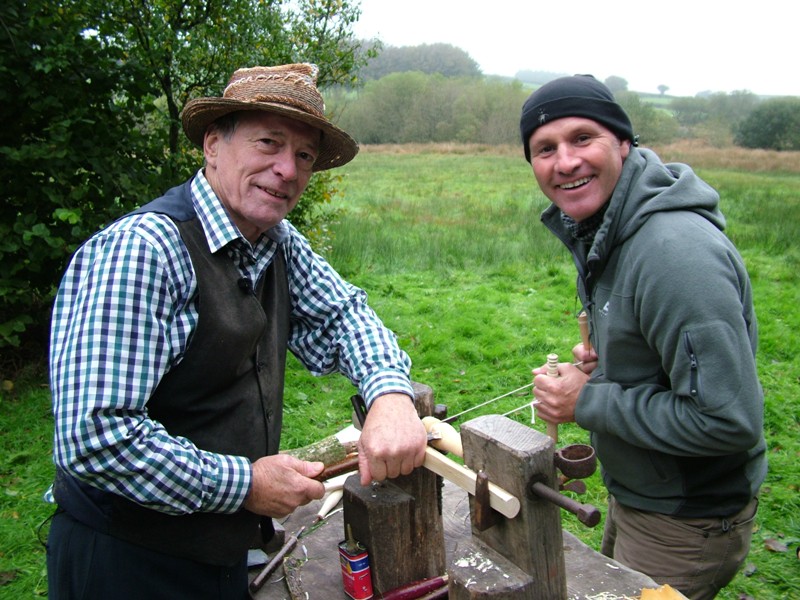 This was to become an intriguing archaeological experiment.
I set up a piece of 'round wood' spindle tree between two points and with a bow in one hand and a chisel in the other it was clear that with a little practice progress could be made, coordinating the bowing and holding the tool using a separate hand for each and only making a cut as the wood revolves forwards is tricky at first. Perseverance proved that it could be achieved and I did indeed produce a passable ear stud, and so down to Dartmoor for the filming.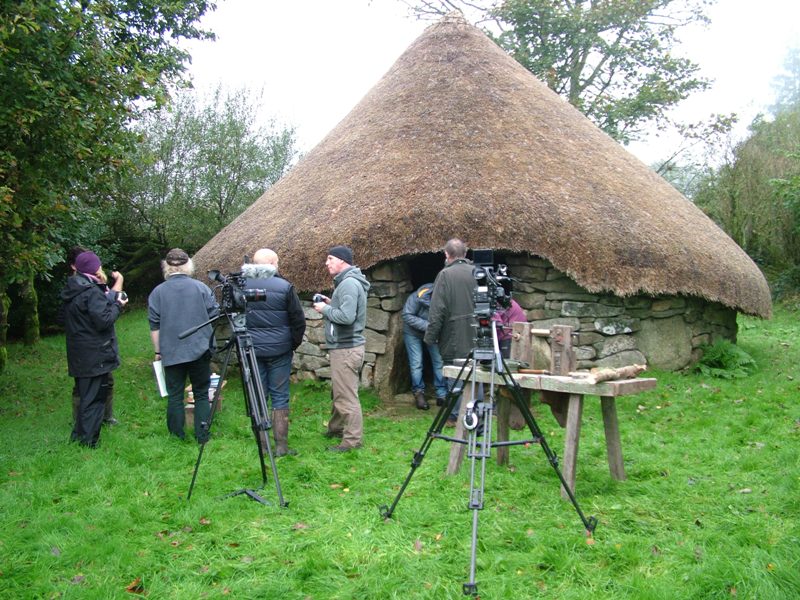 The location was perfect, in front of a recreated ancient round house.
The lathe was set up, the presenter was Mike Dilger of the One Show with Dr Richard Brunning, wood expert in attendance. Using my set of Bronze Age tools, notably a socketed bronze chisel and a small round nose scraper I bowed away, slow but sure. I then suggested that if Mike put a cord around the work piece it would free up both of my hands and this would allow me more control, this made a great difference with both the speed of turning and the accuracy of tool use. More speed, more torque, more accuracy, quicker production, this had to be the method used. Indeed, this form of turning proved so efficient that multiples could be turned, pointing possibly to the earliest form of mass production?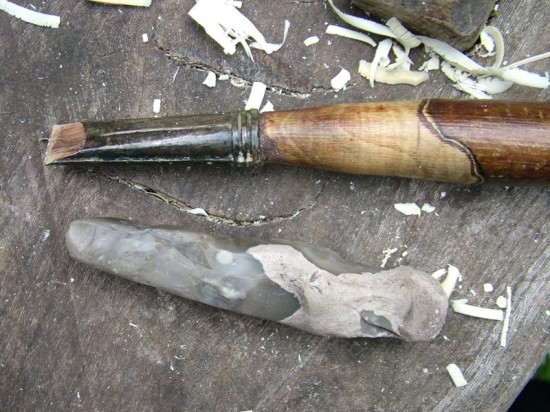 The original studs were so well preserved that one could see evidence of final finishing on the some of the side walls, as if the turnings had been rubbed on a course stone to remove the uneven surface where the studs had been finally parted from the main stock, possibly with a knife. This was my first encounter with spindle wood and I was amazed at the fine finish that was achieved directly from the bronze skew chisel.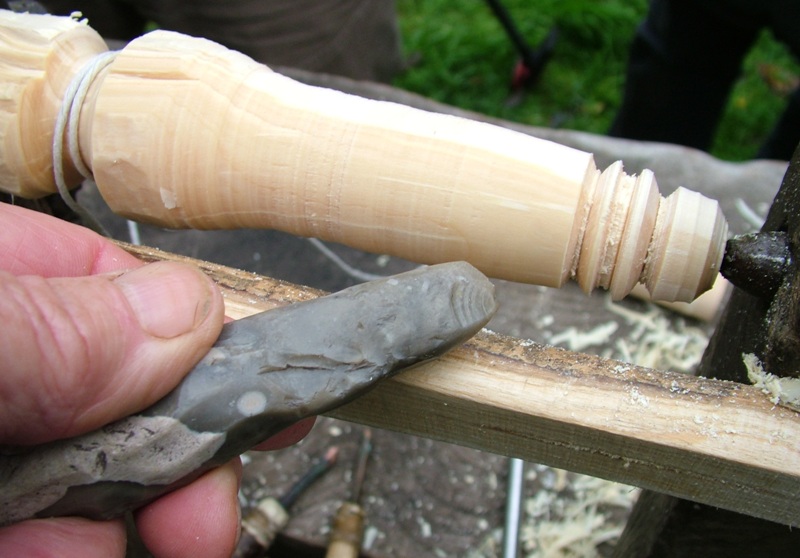 Within a couple of hours I had taken woodturning back another 500 years to the early Bronze Age.
My next challenge is to take woodturning back to the Neolithic!
---