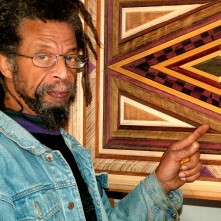 "These are my most important tools", said my host, looking at two home made knives, one ground from a worn-out hacksaw blade, and an old 'Surform' rasp. I was standing in Raymond Harvey's makeshift back-garden workshop, which reflects his general approach to his work, being a structure consisting completely of recycled materials. There, standing majestic in the midst of this ramshackle shelter is the most stunning four poster bed I have ever seen.
It is bedecked, one could say almost bejewelled, with the most beautifully coloured and grained exotic woods, all vying for attention. These are arranged in very precise geometric patterns reminiscent of the Islamic art of the Moors.
When asked about his apparent preference for the straight line Raymond pointed out that working with limited tools and equipment meant that introducing curves into his work was not practical. There is a small band saw used for converting stock and a pillar drill fitted with a sanding disc. Mitres are cut by hand using a mitre saw, then 'cleaned up' using a small belt/disc sander, that's it! There is no jig saw, router or lathe on which to create that 'third' dimension, the curved line.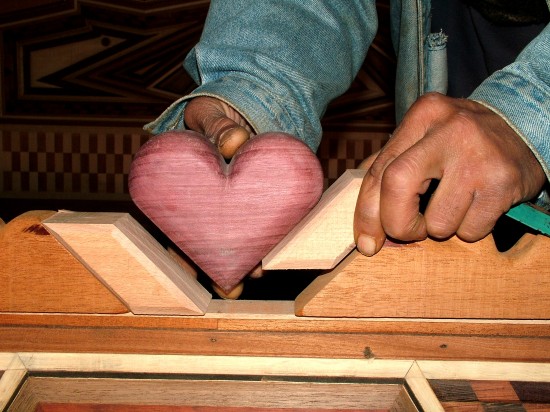 Simple carving is attempted using the knives, usually to cap the tops of panels to counter balance the otherwise linier approach, there are no carving tools in sight. The basic outline of these carvings is 'nibbled-out' using the band saw, after which the knives are used to finish the shaping. The Surform rasp is used to chamfer the edges of the raised panels. Asked about the process involved in producing one of his panels Raymond explained that he started with a sheet of plywood dimetioned to the finished size, and commenced from the 'outside-in',
"I never repeat a design, I like to create something different every time".
He applies the first strips of wood to form a frame around the outside edge, and then fills in the remainder as he proceeds.
"I have no preconceived ideas" he said, "I do not draw a design on paper; all I do is draw a vertical and horizontal centre line on to the wood as a guide. Also, I do not work in feet and inches, I work using the printer's measurement of 'points and ems', this gives me the perfection I look for when constructing my geometric panels. PVA adhesive holds everything together, and then, when I can afford It, I sand it all starting with 120 grit, followed by 240, 300, then finishing with 400 grit abrasive".
At the time of my visit the bed was not completely finished, but I had seen, and stroked some of Raymond's other creations and was surprised to learn of his simple recipe for achieving the superb finish that I much admired. One coat of raw linseed oil, diluted with four parts white spirit is wiped or brushed on to the surface and any excess wiped off. This takes some time to dry, but when cured is rubbed down with fine wire wool. Liberon Fine Paste neutral wax is then rubbed in and left for 24 hours, then rubbed-down with 'wire-wool' and buffed with a lambs wool mop attached to a power drill. This is repeated 7 or 8 times and can take as many weeks to complete; it is not for those in a hurry.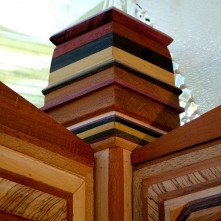 The frame-work of the bed is mortised and tenoned and secured using hidden screw fixings. Apart from the panels, the basic frame consists of solid Mahogany, much of which is salvaged oddments from the double glazing industry. Knowing how expensive exotic woods are, I asked how these were sourced and was told that most of them were off-cuts from a local electric guitar maker including some from an instrument made for Sir Paul McCartney. The species include; Ebony, Zebrano, Purple Heart, Walnut, Maple, Lemon wood, Wengi, Paduke, Lignum vite and Beech, there are approximately 30 species and nearly 10,000 separate pieces incorporated in the bed. Raymond said this had been a two year project and that he often works an 18 hour day, but there have been a few intervals of inactivity due to bad weather when rain water comes through the ceiling!
Being an orphan in his native Jamaica, Raymond was housed and taught at the Alpha boy's school along with as many 7-800 others, the emphasis on teaching was on practical skills. First he learnt boot and shoe making, something that was in great demand at such an institution. After this he became an accomplished tailor, woodwork came next and was eagerly embarked upon until he was able to make, and French polish, reproduction Victorian furniture. The printing trade followed, this included the trade of compositor and litho plate making. Raymond also found time to play the trombone and baritone sax in the school band.
At the age of 21 one young Raymond Harvey arrived in England where he was confident that all these skills he had acquired would make him rich, he was wrong, there was a still lot of prejudice about in the 1960s.
"People judged a book by its colour he told me, but, they got it wrong, I was able to prove to myself I could create some beautiful things. The best thing I learnt about England was that each person is an individual, I did not know that! It did not occur to me that everyone is unique, I asked myself – if you are a unique person, how do you shine? Everyone out there has to shine, and to shine you have to be noticed. Some people commit murder and do bad things, I decided to create beauty, I will make anything in wood and it will be different, unique, like me!

The first work I did inside my house was an inlaid door in the hall, this was followed by completely panelling the kitchen, including all the units entirely with wood that was salvaged from sources such as builders skips".
Today the whole house interior is decorated with Raymond's individual approach in using wood to beautify his living environment. Carved figures incorporated in the panelling help to create a very special North African ambience. The fitted bedroom wardrobes are completely covered in parquetry decorated with symbolic ships, buildings and landscapes.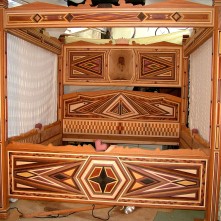 From the outside Raymond's Buckinghamshire house is rather non-descript and much the same as his neighbours, but enter through the front door and you are confronted with an interior one would expect to find in a large English country house. Raymond confided,
"I am the poorest person in the area but my house is like a palace, but, I feel my workshop is my palace, my heaven, I just go in there and everything just comes together.

I would like to teach and have written to many authorities including the government and the national lottery but no one wants to use my knowledge. I have special skills that I want to pass on to young people, especially underprivileged children, to show them there is something other than drugs and getting into trouble. I am willing to teach anyone but now I'm told that I am too old, at 63! I love England but maybe I will have to return to Jamaica to share my skills, I have a lot to share before I die".