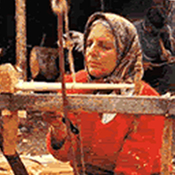 Spinning of wool in the West has for a long time been the province of the machine, but in many parts of the globe including much of Eastern Europe this time-old activity is still very much a hand skill.
Some spinners use a spinning wheel while many more produce woollen thread with the aid of a drop spindle, simply a turned wooden tapering shaft about 16 inches long and about one inch diameter towards its base. They are sold at local markets and still form part of peasant culture.
Despite an ever-increasing exodus to the City by the young, peasant or country life remains strong and forms an important part of the East European economy.My first encounter with a bow lathe turner was in Bulgaria during my 1991 travels. The objective on this particular occasion was to photograph a spoon maker called Todor Dinev. It was on my second day as their guest that I was told of the bow lathe, it being thought of as a fairly insignificant item. Indeed Todor had been using an ancient electric lathe for the previous five years and this had replaced the traditional bow lathe that had been handed down through Mrs Dinev's female line for generations. There appears to be a strong tradition of this work being done by the women folk.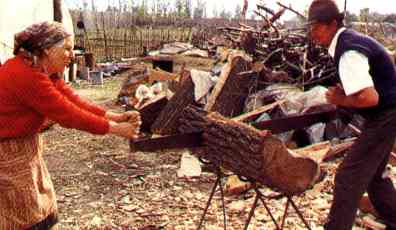 This Bulgarian bow lathe had no frame: it consisted of a wooden bed with two wedge-held poppets as in a pole lathe. These poppets or centres each contained a rounded recess instead of protruding centres to retain the word to be turned. This is an ideal solution to the stock holding problem as each end of the finished drop spindle terminates with a dull point. No pointed centre could hold such work. The whole lathe was made of wood, including the bow stick; only the drive, which wrapped around the work pole-lathe fashion, was not wood, it being leather.
Because the lathe has no supporting framework the operator has to wedge one end into a doorjamb or other convenient object whilst the other end is held by the Turner's shoulder. The hand – forged turning tool was of a design I had not seen before, nor since. It has a wide half-moon profile blade incorporating an integral steel blade. The whole contraption appears ungainly and awkward, yet this particular lathe and tool has produced many thousands of drop spindles over several generations of users.
Unique is a much over used word but I did think I'd stumbled upon something pretty unusual in these modern times. It was to be another seven years before my next encounter with this primitive form of turning. I had revisited Romania in April of this year to record and photograph pole lathe turner Ion Constantin turning traditional drinking flasks. When this assignment was completed Ion casually mentioned to my Romanian interpreter and fellow woodworker Zina that his wife was also a wood turner and would we like to see her at work? This was a complete surprise and we replied with a delighted "yes please". The bed of Mrs Constantin's bow lathe was very similar to that of its Bulgarian counterpart but with the addition of a frame, which enabled it to be free-standing. Apart from this the only difference was that instead of a leather driving thong the bow on this Romanian example used string.
The stock Ion used for the Romanian drop spindles was poplar. They were roughed out with a side axe and whittled to an over-sized approximation using a knife. This preparation work was done by Mr Constantin and handed over to his wife who then completed the task.
The stock or billet was placed between the recessed cup centres of the poppets, which were secured by 'tapped in' wedges. The string is wound once around the billet and held taut by the thumb inserted in the looped end. The end of the bow stick is also held in the same hand and with a fiddle action the billet is rotated backwards and forwards. Actual turning however can only take place on the down stroke with the top of the work rotating towards the operator. Just one tool is used to produce a complete spindle. It is approximately 7 3/4″ long with a slightly flared, flat blade of about 2 3/4″ wide and hand – forged. A kneeling position is adopted for the turning process, which is completed in a remarkably short time. These drop spindles are decorated in a very simple manner with a series of dark lines and coloured bands. The dark, pencil-like lines are applied with the edge of a piece of lead pipe, flattened for the purpose by Mr Constantin using the top of his side axe as a hammer. Applying the red and green bands was a more involved affair. First, wet wood ash was rubbed on the spot to be decorated, then the tip of a cloth was dipped in water, dabbed into either red or green powder and finally rubbed into the spindle as it was revolved in the lathe.
This trip into living history was for me an unforgettable event. To meet one turner plying his ancient tradition on the pole lathe was one thing, to then see his wife using a bow lathe not dissimilar to that engraved on an ancient Egyptian tomb quite another. Mr and Mrs Constantin, with their modest mode of life and unassuming nature, are a truly remarkable pair of woodturners.